The author's project RUBY RISE by Firuz Kurbonzodski is about wine and three Tajik-Persian poets: Khayyam, Rumi, Jami

The name of the brand comes from various works in which poets often name the wine as a ruby, comparing it to the ruby sunrise.

The wine is a transparent ruby and the pitcher is a spring.
The vessel is a body, and the wine in it is a soul.
The fire of wine sparkles in the crystal bowl,
This is the tears pouring from the blood of the grapes.
— Khayyam



The designer Firuz Kurbonzodski is from Dushanbe, the capital of Tajikistan.

It is his duty to share the wealth of his culture and to inspire his compatriots and people around the world through the lens of design. He spent four years discussing the project, reading the works of Khayyam, Rumi and Jami, and finally the project was realized.

A man unfamiliar with the work of the great Tajik-Persian poets may not understand when he reads poems about wine, poems glorifying the "delights" of wine. Reading them, we involuntarily see our own reflection and our state of mind in them.

Tajik culture and the richness of the language are the main subjects in the project. Firuz invited Yulia Garanicheva, the artist from Ukraine, to work for the project. Within 6 months, portraits of poets were made. The portrait of each author belongs to the grape variety, and their thoughts accompany and reveal the taste and aroma of wine through words.

The wine is a transparent ruby and the pitcher is a spring,
The vessel is a body, and the wine in it is a soul…
Khayyam
An outstanding Persian philosopher, mathematician, astronomer and poet.

Khayyam's work speaks for itself it is one of the greatest vertices of the world poetry... All his poetry is a glorification of the greatness of the human spirit, all of it is imbued with faith in the immortal creative mind of man. This is close to me, this is my key to immortality.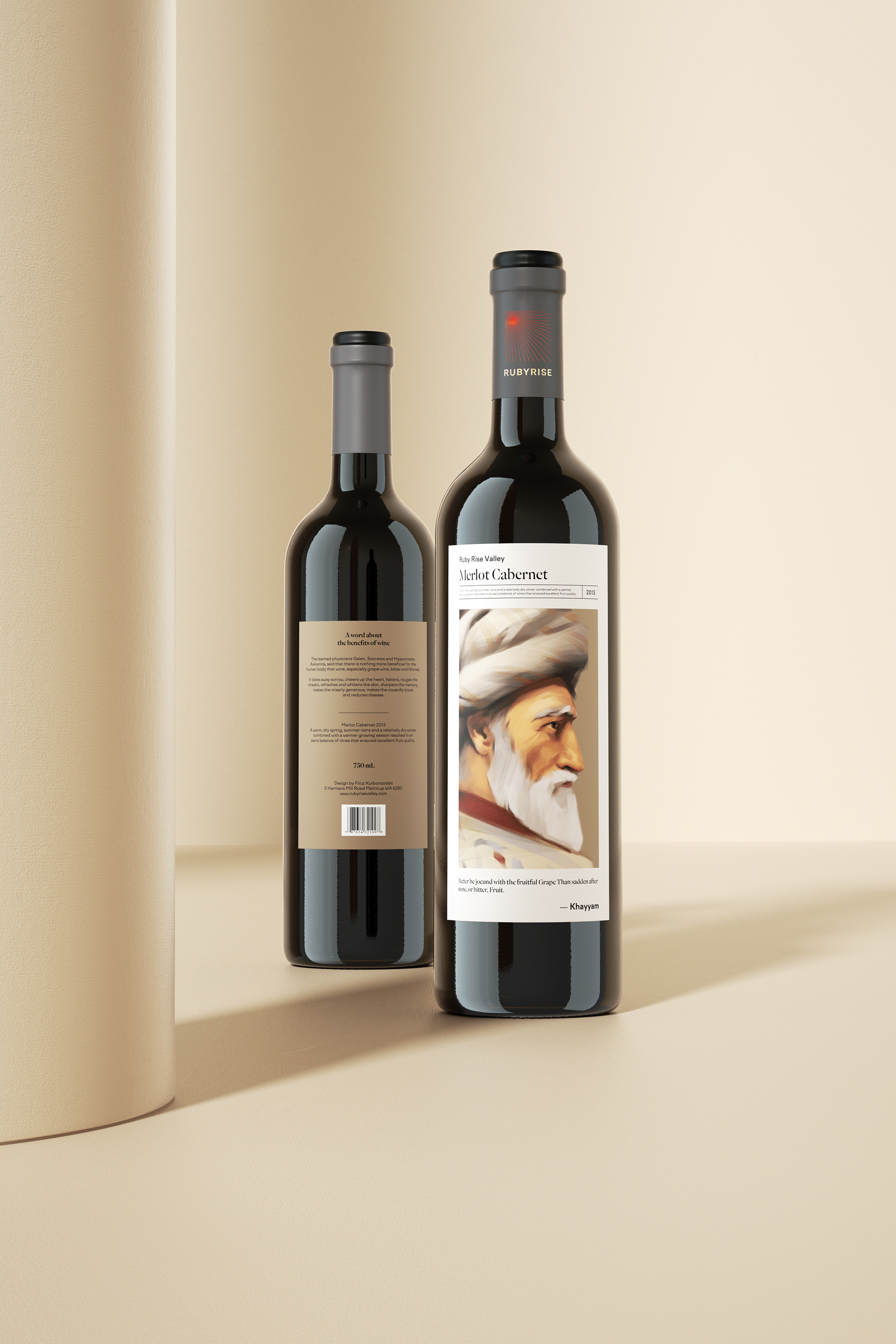 Rumi
An outstanding Persian poet.
He is my spiritual mentor, a treasure of wisdom and beauty. He believed in no miracles but «the miracle of the human heart». Reading a few of his poems shifts your mind, as if your consciousness is cleared, vanity and slight anxiety are gone, and what is really important in your life becomes clearer and clearer.



Jami
An outstanding Tajik-Persian mystic poet, philosopher, and music theorist.
Jami influenced the entire development of Tajik-Persian literature and completed the classical period of poetry in the Farsi language. He is a great humanist of the era, and he managed to win the love of the common people - artisans, farmers, artists - whose protector, teacher, mentor and friend he was. His book of proverbs, Baharistan. (1487) contains examples of popular wisdom and morality, rejection of social hierarchy.



Gift Box